Selected Public Commissions


---


Three Avatars – The Deer, The Rabbit and The Fox
2023-2020, recycled aluminum
Vasakronan, Sundbyberg, Stockholm
Inauguration date: December 5th, 2023

The Avatars are casted in recycled aluminium sourced from 'Hötorgsskrapornas facade' in Stockholm. Living in the fringes of urban zones, the animals belong to our common fauna. Informed and altered by the voronoi algorithm, they are messengers, enigmatic but friendly.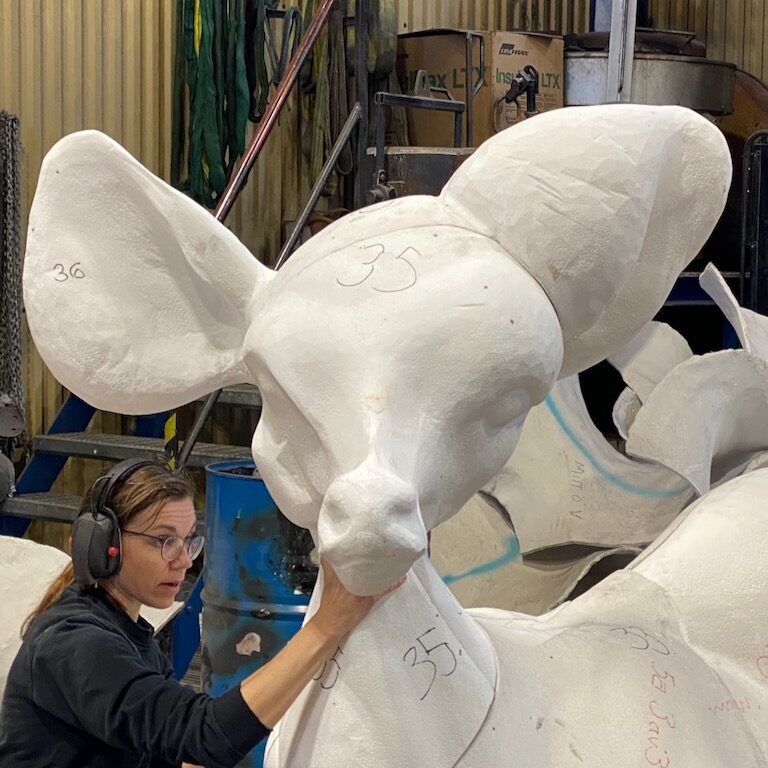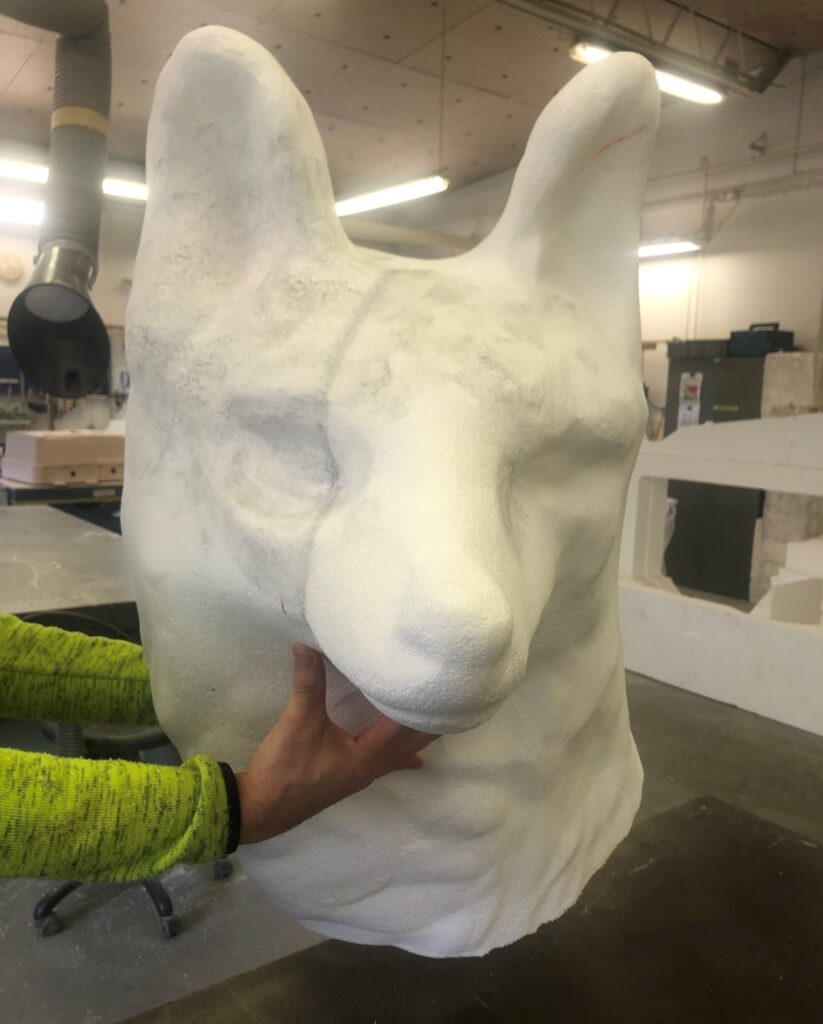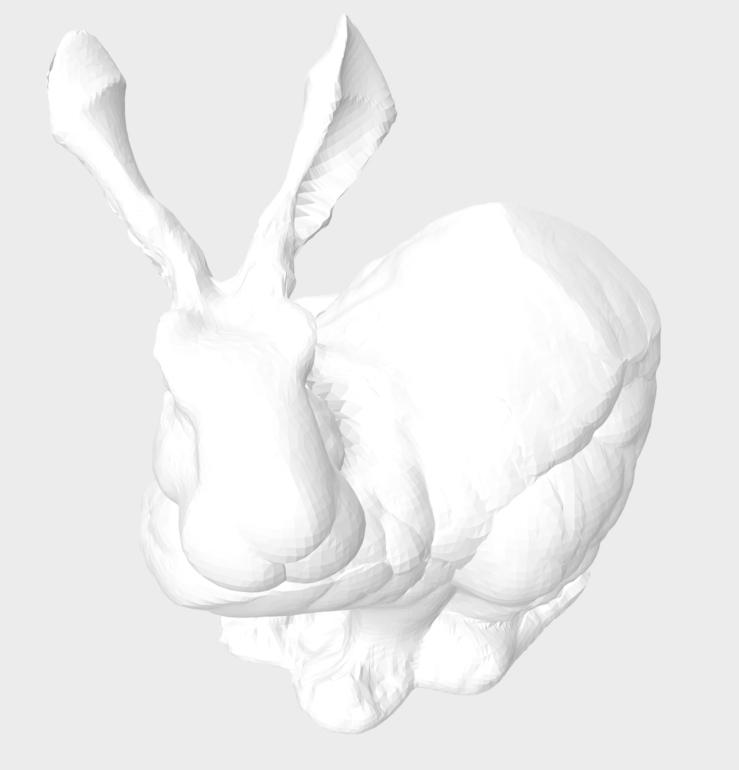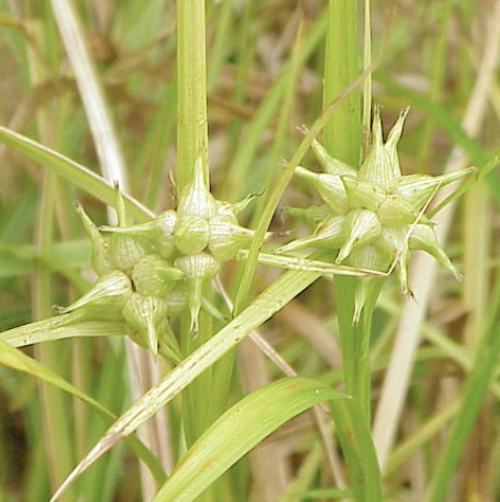 ---


Hybrid Mutations
2022-2019, wet casted concrete, custom dyed in tones of green and white
Badriket, Kristianstad
Inaugurated September 30, 2022

Hybrid Mutations are digitally produced replicas of nine plants and flowers from Kristianstad's 'Vattenriket'. The hybrid pattern is informed by pixels, algorithmic processes and biological material; a mutated meadow for the future.

Konstverket Hybrid Mutations 2022 utgörs av digitalt framställda replikor av nio växter från Biosfärområde Kristianstads Vattenrike. Hybridmönstret till Badhustorget är formerat av pixlar, algoritmiska processer och biologisk materia; en muterad äng för framtiden.

Artist: Ann Lislegaard
Landscape Architect: Sophie Sahlqvist

Photos: Gert Germeraad, Sophie Sahlqvist, Ann Lislegaard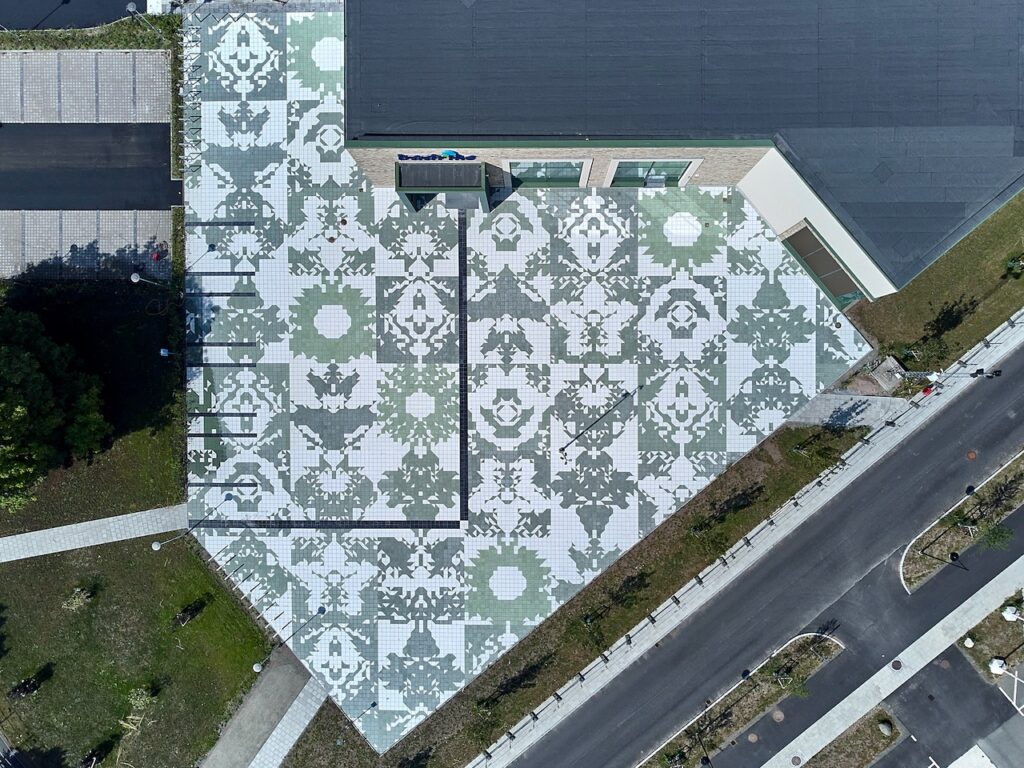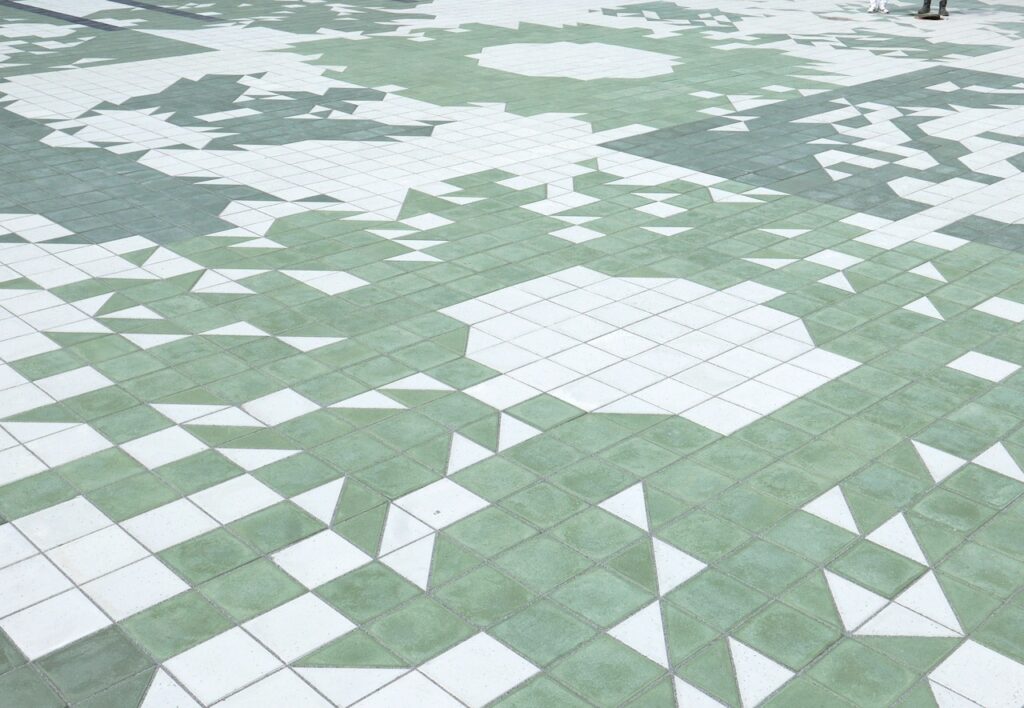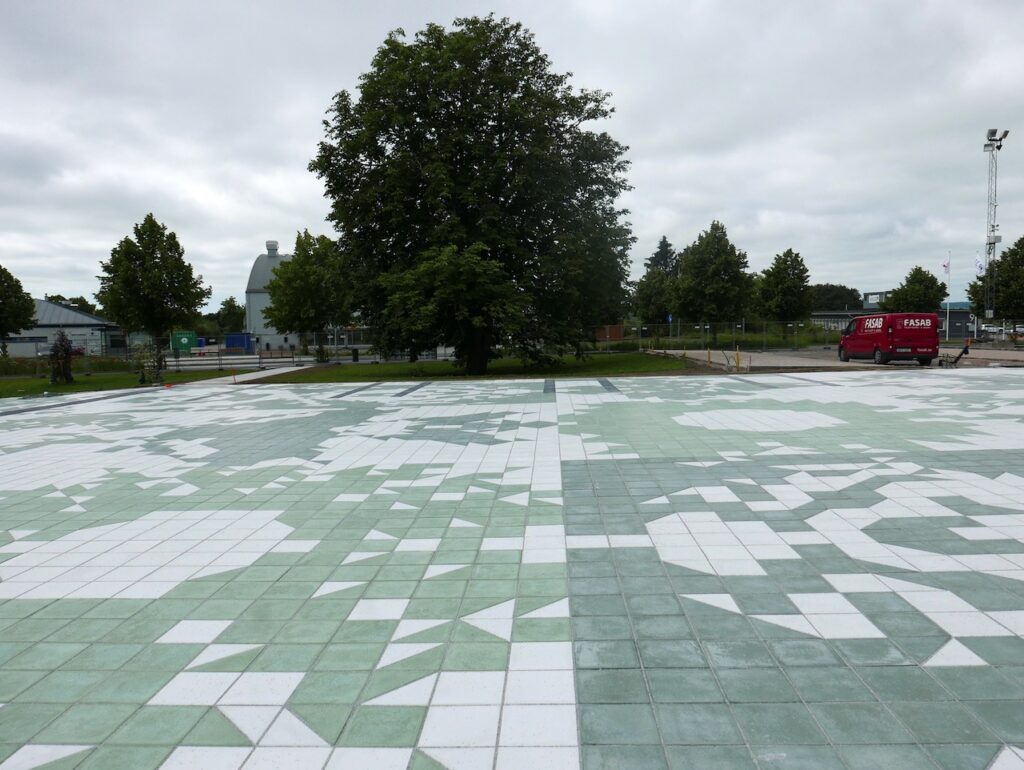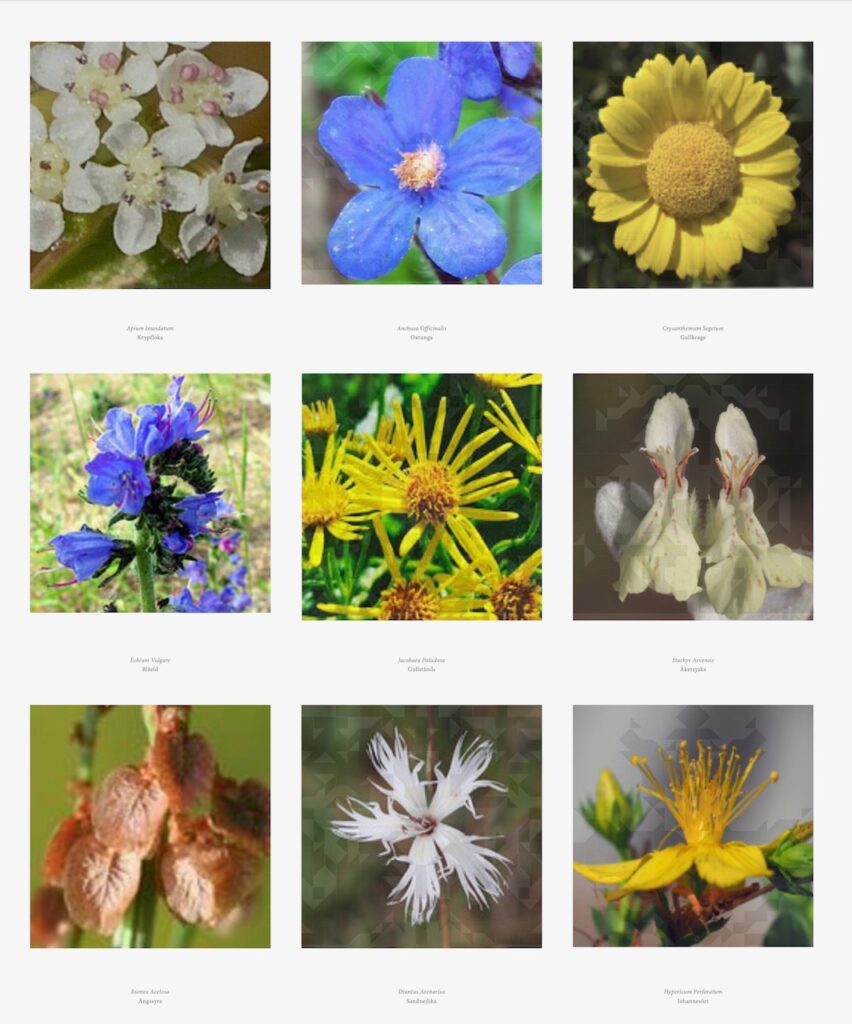 ---


1000år1000år
2021-2018, recycled aluminium
Horten
Inaugurated January 11, 2022

Hollow oaks are unique habitats for microbes, insects, fungi, mosses and birds—many of them red-listed. As well as being refuges for biodiversity, they are living memory banks. Due to their long lifespan they register the unfolding of events, past and present. The hollow oak in Horten is more than a thousand years old and has witnessed the roaming of the vikings, the time of industrialism, Horten boatyard, the second world war, women's suffrage, the photographer Marie Høeg, Preus Photolab, Preus Museum of Camera Technology, climate change, artificial intelligence, virtual reality…

1000år1000år is modeled on a 3D scan of this locally appreciated oak. The scan is processed, re-modeled and other elements are added. The modified replica is then printed in soft material and casted in recycled aluminium.

Placed at the fringes of the city's park, the sculpture has the appearance of a prop from a science fiction novel. It can be seen as a portal, a gateway, to other worlds. It reminds us that we can create new, unknown futures. Futures that involve a renegotiation of our relationship and connectedness to the diverse, biological worlds we are part of.

"Ann Lislegaard", Jeppe Ugelvig, chartartfair.com (2022)
"Har laget noe for de neste tusen år", Bjørn Nilsen, Gjengangeren (2022)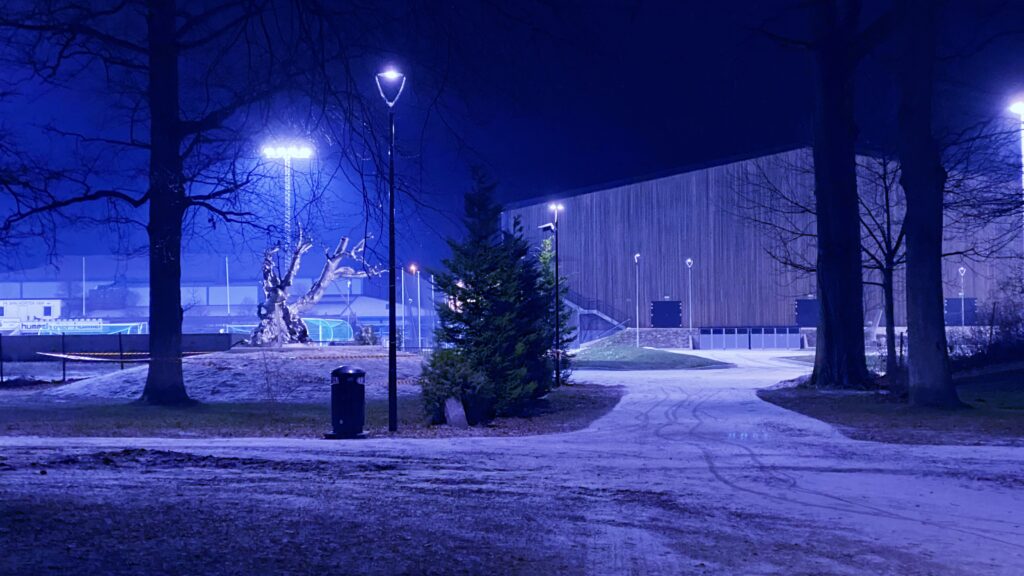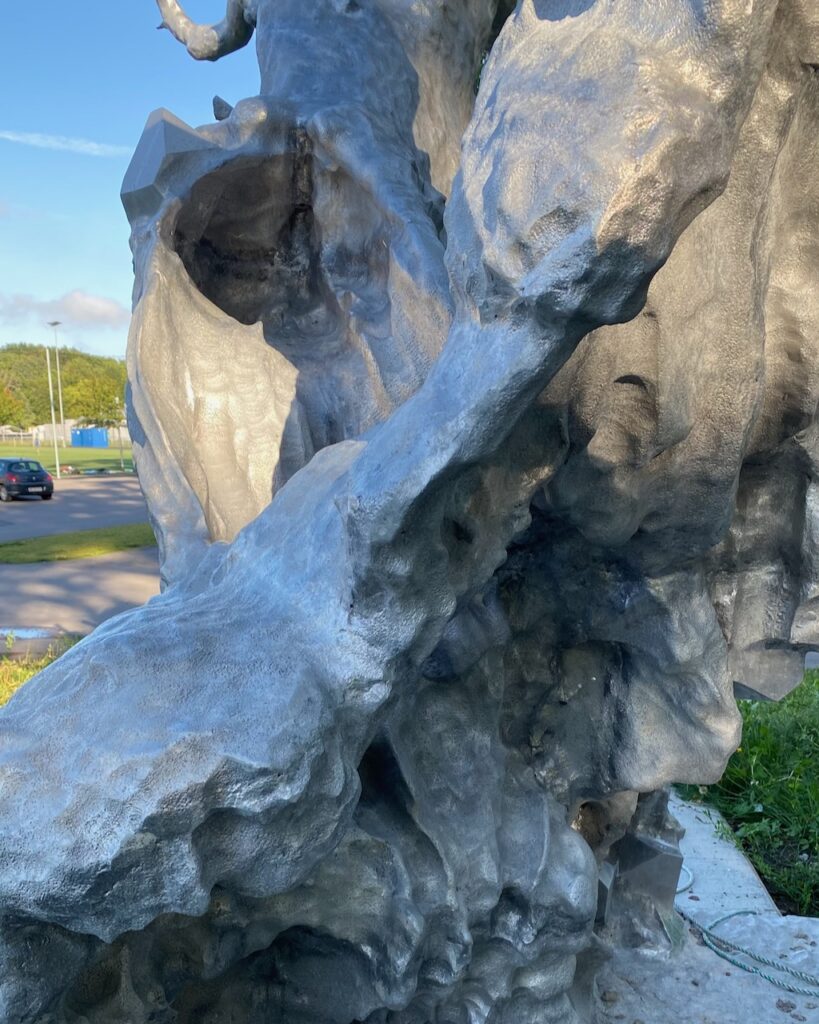 ---


Teleport / Stargate / Transcoding (production ongoing)
2026-2019
Koro, Livsvitenskapsbygget – Universitetet i Oslo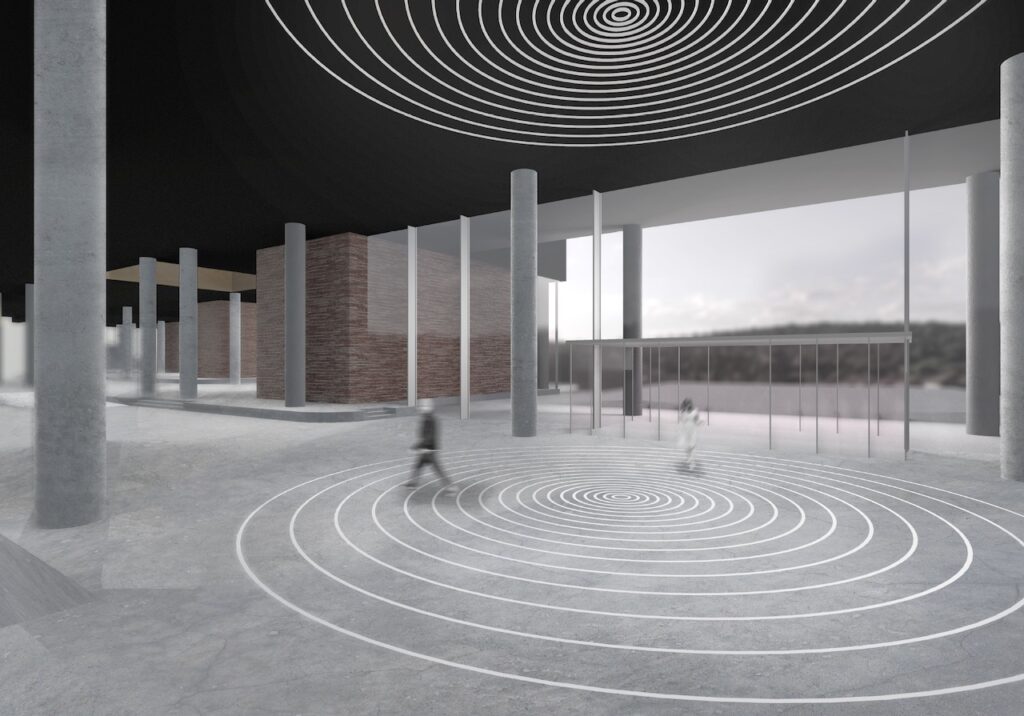 ---


Habitat – et sted dedikeret til tidsrejser og ukendte begivenheder
2021-2018, platform, light, sound
Deep Forest Art Land (Skovsnogen)

"Et dronebillede over Deep Forest Art Land afslører en kunstigt opstået lysning i den tætte granskov. Den store mørke cirkel, der anes i skovbunden, ligner en landingsplads eller måske en platform til observation og undersøgelse af universet. Den mørke flade forekommer næsten dystopisk i sin indtagelse af lysningen og som kontrast til de omgivende 15 meter høje træer. Værkets minimale og stringente udtryk er samtidig et massivt greb i skoven.

Kunstner Ann Lislegaards værk Habitat – et sted dedikeret til tidsrejser og ukendte begivenheder består af en stor cirkelrund platform, der er støbt i asfalt og måler 18 meter i diameter. Det arkitektoniske felt i skoven har en skala og størrelse, der inviterer de besøgende til at gå, sidde eller ligge på det. Asfalten er skåret helt skarpt ved kanten, som indikerer en tydeligt markeret anden zone end skovbunden. Her kan man lytte og observere de "signaler", der kommer fra den omgivende skov, dyrene, planterne, himmelhvælvet, stjernerne og planeterne.

Bevægelsessensorer registrerer, når gæster nærmer sig kontaktzonen og aktiverer 8 magenta lyspunkter samt lyde fra uddøde fugle, der som et digitalt dnaspor vidner om både skoven, dyrene og menneskenes fortid og mulige fremtider. Lyden af fortidens fuglekald sender signaler til skovens fugle, der svarer tilbage og som et åndesyn frembringer idéen om de uddøde arter. Deres tabte sprog genaktiveres i en symbiotisk opera af skovens fuglestemmer og fortidens spøgelseskald. Denne nye biotop af lyde og lys, en portal til kommunikation mellem skovens væsener, kan måske tiltrække nye arter og skabe et nyt uforudset biologisk miljø – et ukendt habitat." (Nanna Grunnet, uddrag fra DFAL Årsrapport, 2020)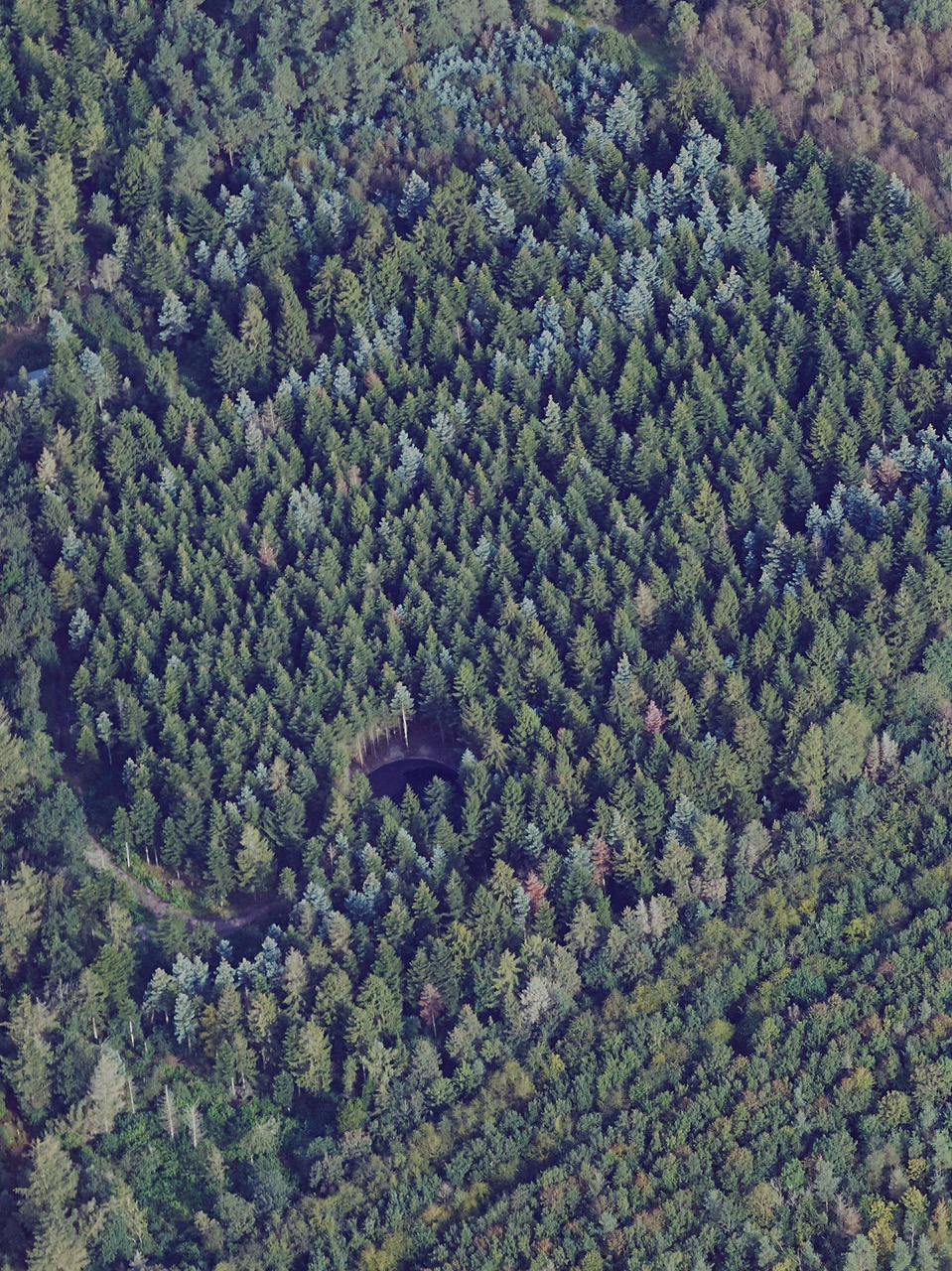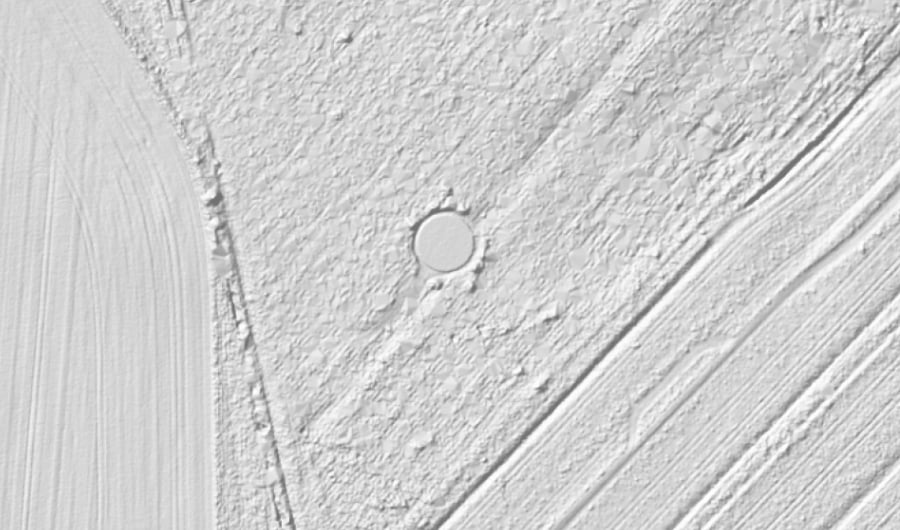 ---


Orakel, en animation
2018-2016
Københavns Professionshøjskole, Campus Carlsberg, Copenhagen
Inaugurated May 8, 2018

"Det er billedkunstner Ann Lislegaard, som står bag det helt nye stedsspecifikke kunstværk Orakel, en animation (2018) på Københavns Professionshøjskole. Neonuglen kan opleves i Campus Carlsbergs atrium, hvor den udsmykker væggen i 11 meters højde med et vingefang på omkring otte meter. Uglen skiftevis spreder sine vinger, tager afsæt, letter og tager afsæt igen. Bevægelserne animeres af et netværk af neonrør. Kunstværket er realiseret på baggrund af en bevilling fra Ny Carlsbergfondet.

Ann Lislegaard har gennem mange år arbejdet med en række forskellige medier, og hun er særligt kendt for at benytte ny teknologi i sit kunstneriske arbejde. Hun henter inspiration i science fiction-genren som en alternativ indgang til fortælling og de sociale og psykologiske strukturer, som vi forstår verden igennem. Lislegaard er optaget af uglen som et slags orakel, et varsel.

"Tidligt i processen besluttede jeg, at udsmykningen ikke skulle være et stillestående billede af en ugle. Den skulle performe og være i bevægelse, ligesom en animation. De sidste årtier er der forsvundet mere end tre millioner fugle bare i Danmark. Neonuglen kan ses som et mødested, der også minder os om, at vi kan forandre, hvordan vi lever. Uglen sætter af, den letter og den drømmer om at flyve – også i fremtiden," siger Ann Lislegaard." (Uddrag fra Ny Carlsbergfondets pressemeddelse, 2018)

More information about the work:
Soundtrack til værket
Interview med Ann Lislegaard
"Neonugle på Campus Carlsberg", Ny Carlsbergfondet (2018)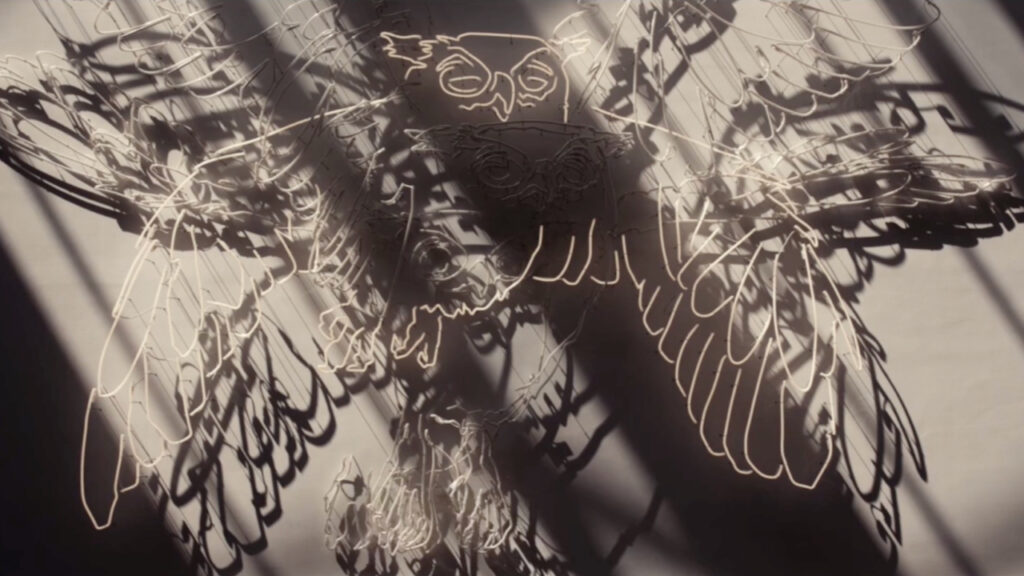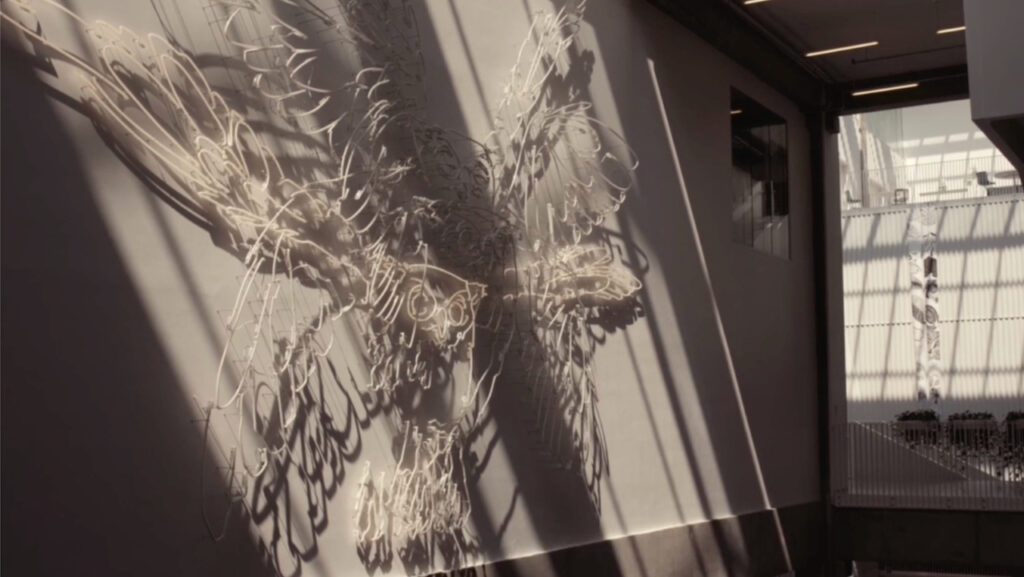 ---


Blomman från Weena, en tidsresa (H. G. Wells)
2018-2015
Humanistiska Teatern, Uppsala University

"Med utgångspunkt i H. G. Wells novell The Time Machine utforskar Ann Lislegaard återigen tidsresan. I boken reser en vetenskapsman, tusentals år framåt i tiden och återvänder med två okända blommor, en gåva från framtidsvarelsen Weena som blir beviset för resan till framtiden.

Blomman från Weena, en tidsresa (H. G. Wells) är ett verk i byggnadens plåtfasad. Utifrån stillbilder av en muterande blomma har fasaden perforerats och ljussatts bakifrån. Om dagen skapas ett skimrande mönster och när solen går ned tänds långsamt ljuset och byggnaden lyser upp. Inuti Humanistiska teatern finns även den animation som ligger till grund för gestaltningen.

Konstnären leker med tanken att Humanistiska teatern i Uppsala ses som en tidsmaskin. En plats där klassisk tradition möter ny teknik, idéer flödar genom tid och rum och sammanförs i nya tankevärldar. Blomman som använts i konstverket är Morning Glory, en växt som bland annat Aztekerna använde för att få tillgång till framtiden." (Uddrag fra Statens Konstråds hjemmeside)

More information about the work:
"Blomman från Weena, en tidsresa", Statens konstråd

Awards:
Plåtpriset 2018
ALUMINIUMPRISET 2018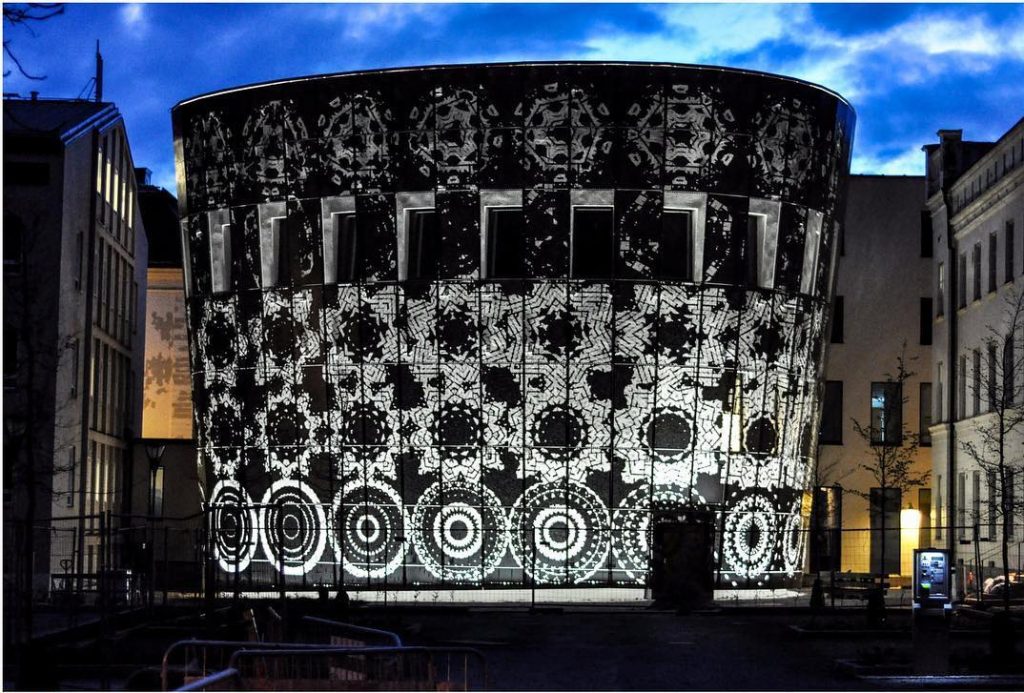 ---


111
2014-2012
KØS – Museum of Art in Public Spaces, Køge

Artist: Ann Lislegaard
Landscape Architect: Sophie Sahlqvist

More information about the work:
"Lislegaard skaber kunstnerisk forplads til KØS", Tabita Henriksen, kunsten.nu (2014)
"KØS – nu med udstillinger udenfor museet", Ole Bak Jakobsen, kunsten.nu (2015)
"Forplads ved KØS – Museet for kunst i det offentlige rum," Steen Høyer, Landskab (2015)
"111 plateauer", Ann Lislegaard, Landskab (2015)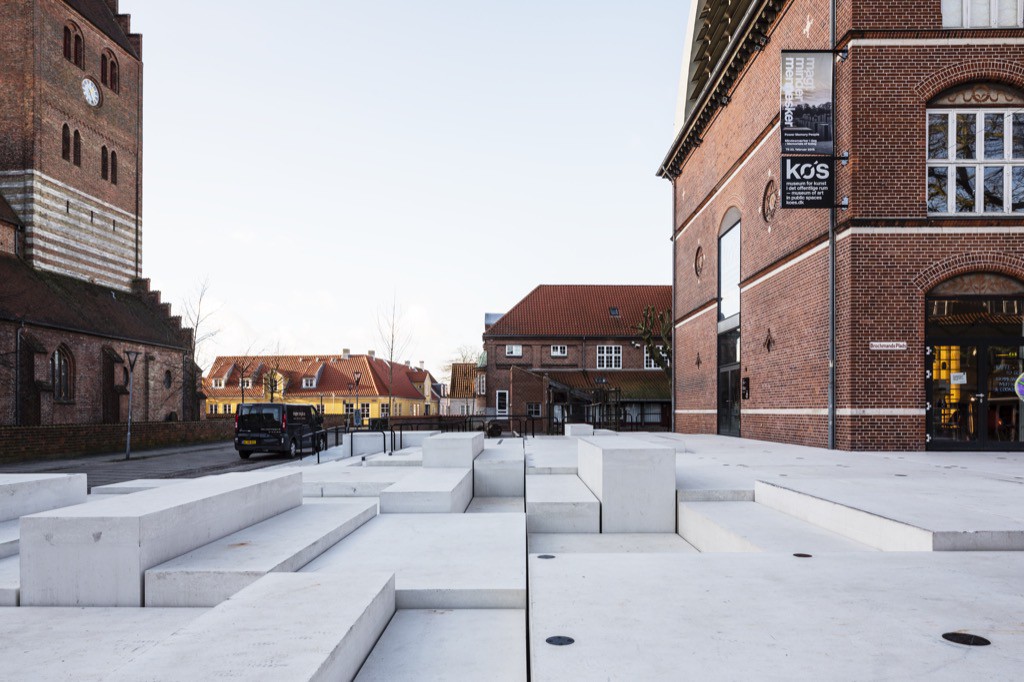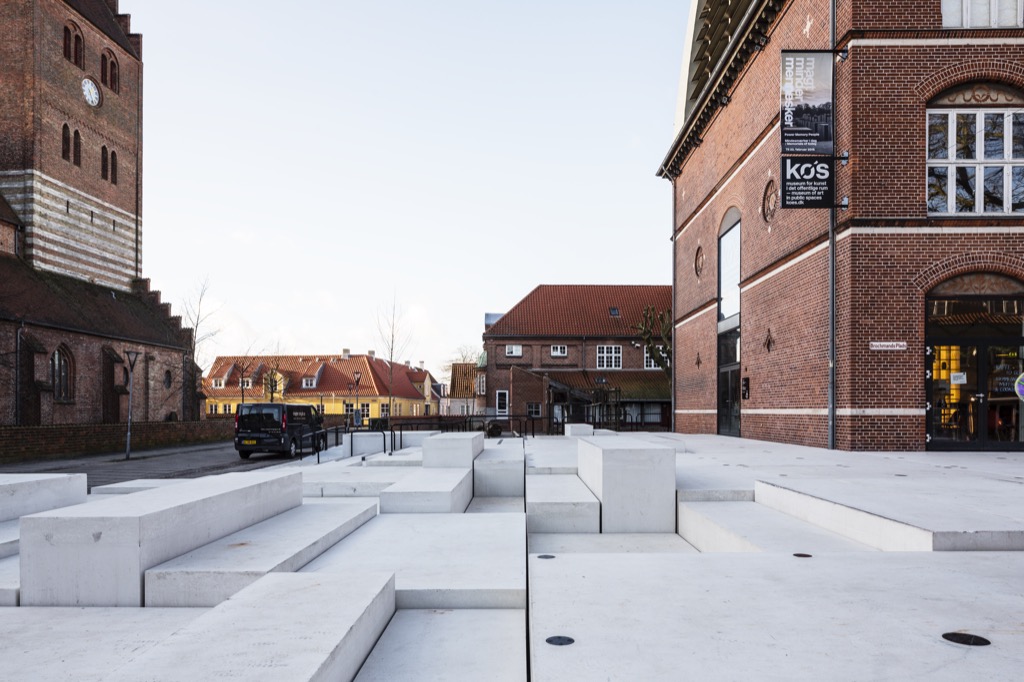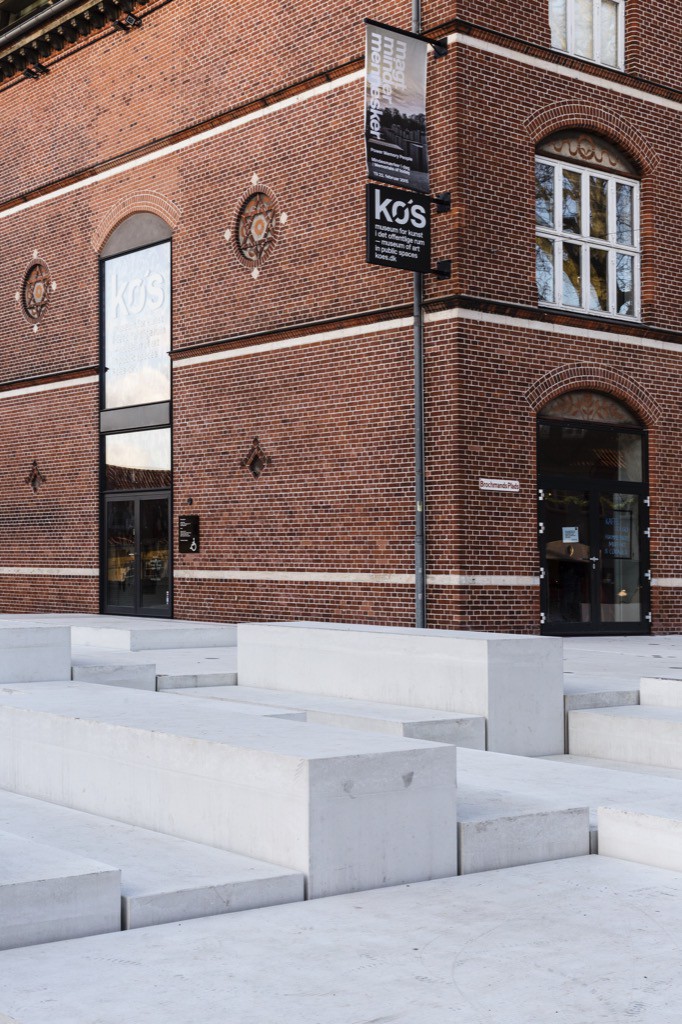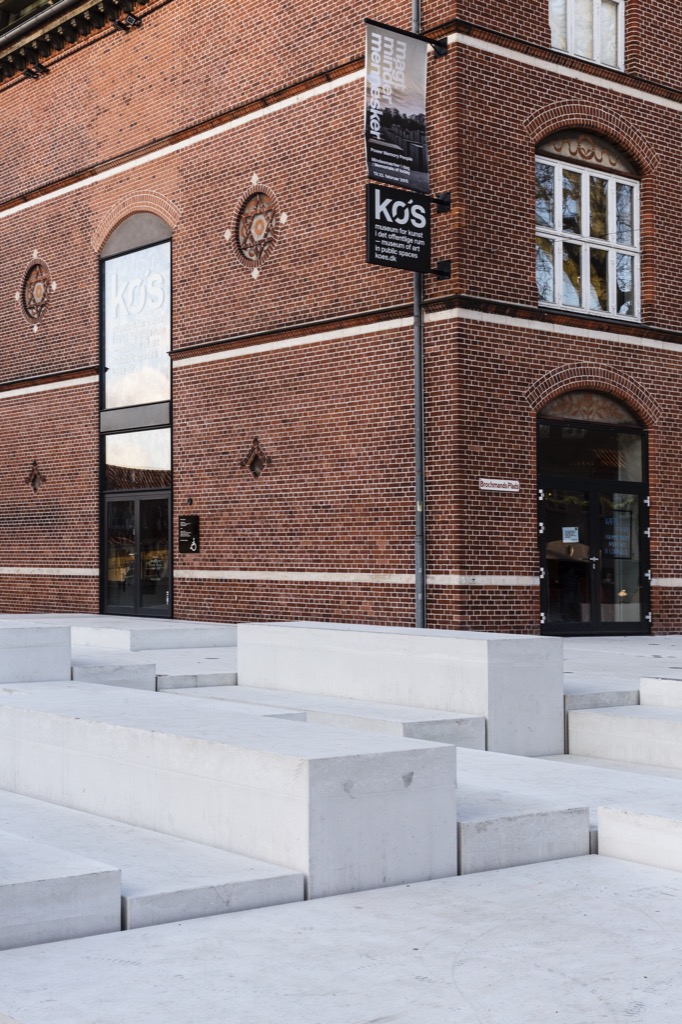 ---


Crop Circles
2010, earthwork

Crop circles, the sudden materialization of mysterious patterns tattooed into fields and pastures, are presumed to be messages from extraterrestrials. The circles usually take the form of abstract signs: unverifiable, otherworldly imagery that strafes the Earth. But the encounter with emancipation and revolution – the desire for freedom, greater equality and justice in the world – is probably more radically alien, as it provokes great leaps of collective consciousness. Such destabilizing potentialities have always spoken through the spaces that can be made available, whether these are séances, dreams, feverish nervous systems, unruly archives, subterranean meetings, or marginal sites… Located at the edge of institutional space, feminism is in Crop Circles indicated as an open field for counter-images and experiments in thought and action.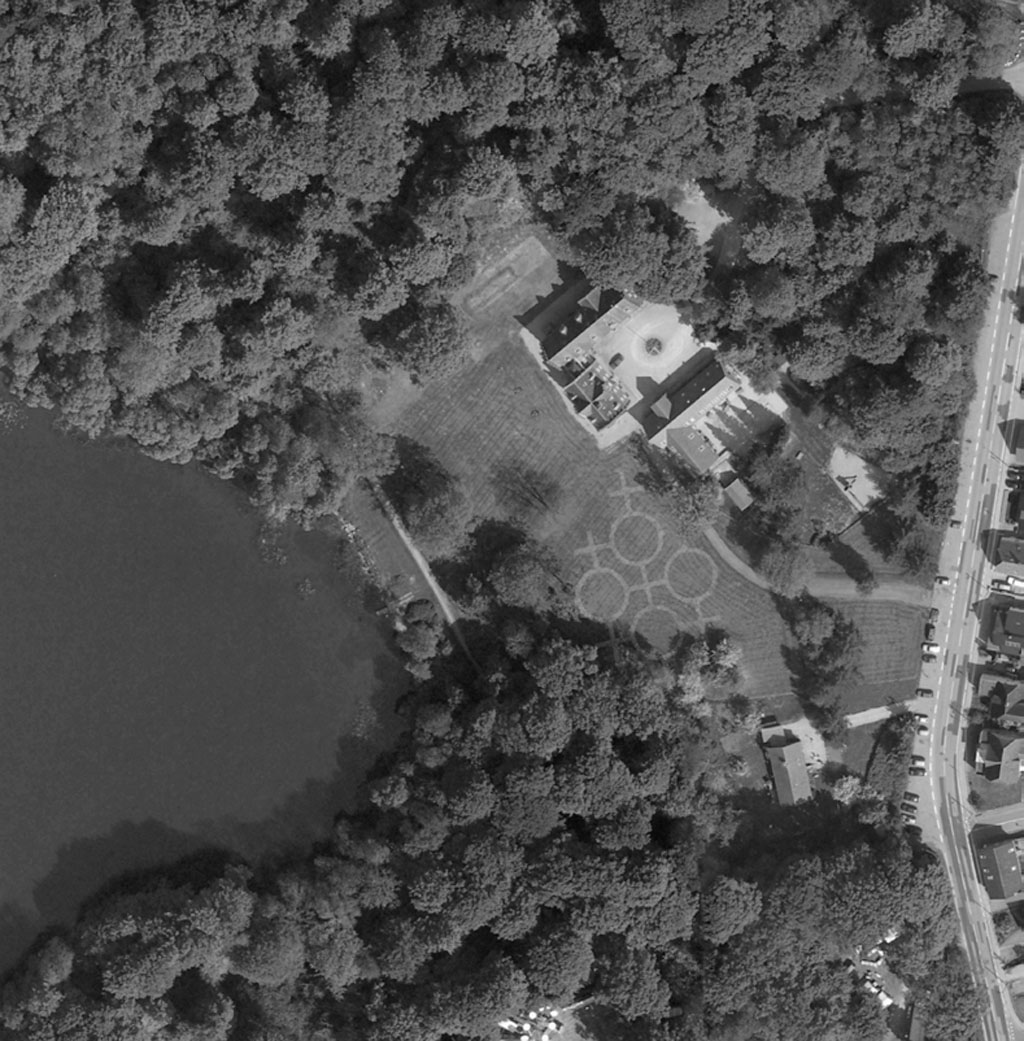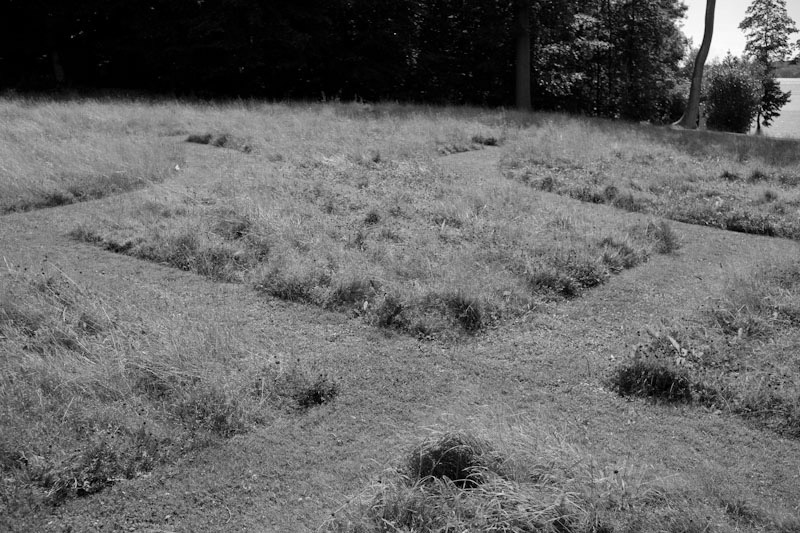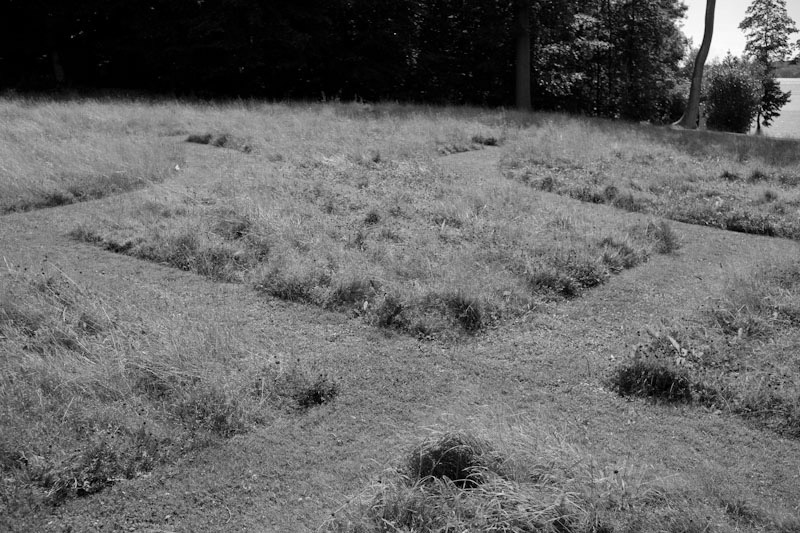 ---


Passage
2009-2007
Moss

Artist: Ann Lislegaard
Landscape Architect: Sophie Sahlqvist

"Se opp når du ser ned", Moss Avis (2009)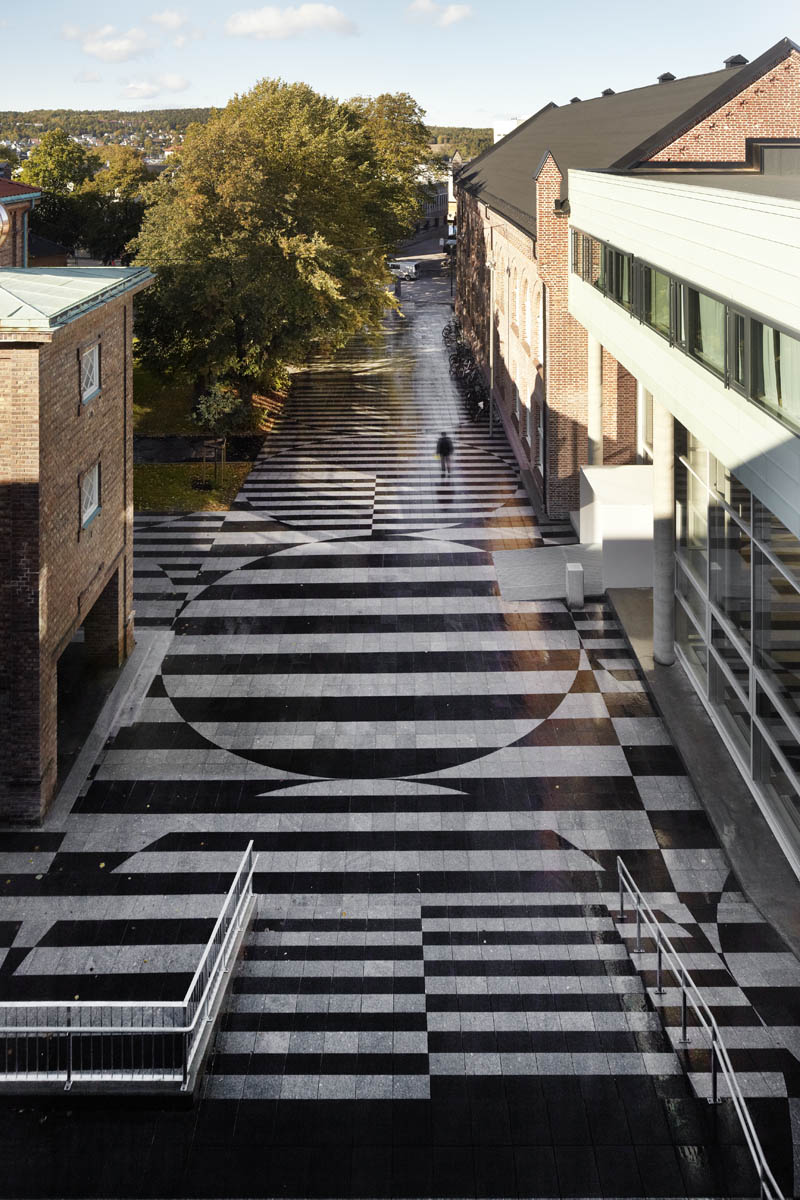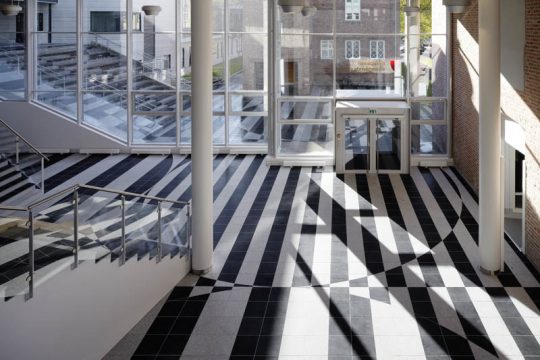 ---


230 volt, 36 dbi
2007-2006, animated light and sound sculpture
Aarhus Idrætsuniversitet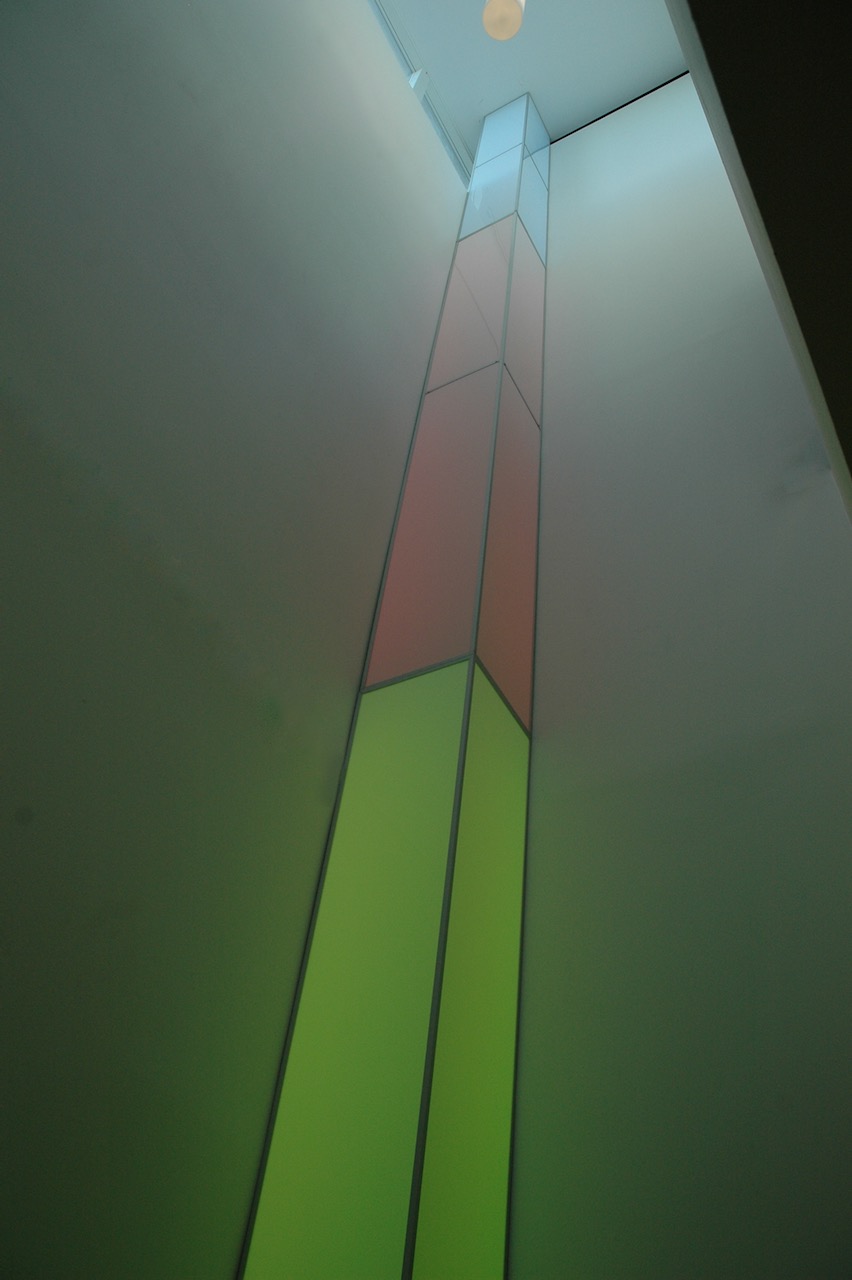 ---


Mist
2007-2004, light
Håverud akvadukt